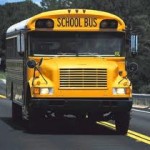 In my neighborhood it's back to school week!  Here's some tax tips related to sending the kids back to school.
It seems like if they start school on Monday, then the gift wrap/candy sale starts on Tuesday.  If you have a choice, you're better off writing a check directly to the PTO for whatever donation you'd like to make to the school rather than buying whatever the kids are selling.  For one thing, the school will get all of your donation instead of the money going to some fundraiser sales company.  For another, your check to the PTO will be 100% tax deductible.  (I would argue that 50% of whatever you pay for the gift wrap should be counted as tax deductible as well, but the fund raising companies will argue that their gift wrap really is worth $7 per roll so it's an iffy deduction.) 
If you're a school volunteer, the money you spend for the classroom counts as a charitable contribution.  Same goes for scouts and church groups.  Now if the kids pay an activity fee and you're using the kids' activity money to buy supplies, then you can't deduct those receipts.  But if you're spending your own money on projects, then you definitely can use that as a deduction.   Scout leaders–your uniform is deductible, your kids uniform isn't.
Remember that the mileage you put on your car for volunteering is also deductible with your contributions.  Charity miles are counted as 14 cents per mile.  It doesn't seem like much, but for some people it really adds up.
One final thing, if you're on your school's PTO, or other charitable organization, make sure that your organization has filed it's not for profit tax forms (990) with the IRS.  Most schools groups never had to file before because PTO's generally have receipts of under $25,000.  But a law passed in 2006, made filing mandatory.  Thousands of not for profits are in danger of losing their charitable status and could wind up having to pay taxes on all those school fund raising efforts.    The IRS has granted relief to these groups until October 15th.  You can check if your group is in danger of losing it's charity status by checking the IRS website:  http://www.irs.gov/charities/article/0,,id=225889,00.html  
Your scout troop or den is covered by the national organization, and your church has different rules, but school groups really need to check this out.  Welcome back and have a great year!