The IRS changed how FBARs are filed.  It's now done online instead of mailing a paper form to Detriot.  Here's a step by step guide to help you through it.
Now before you start, I get a lot of questions from people asking if they even need to file an FBAR.  Here's a link to the IRS website that compares whether you need to file an FBAR or a form 8938.  I like this comparison list better than most of the documents about whether you need to file or not.  It's easier to understand in my book.  So if you're unsure, look here before you file: http://www.irs.gov/Businesses/Comparison-of-Form-8938-and-FBAR-Requirements
The first thing is to find the website page.  Here's the link:  http://bsaefiling.fincen.treas.gov/main.html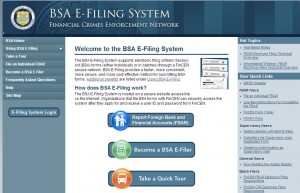 When you open the page it says BSA E-Filing System, Financial Crimes Enforcement Network.  If you're a normal human being, and you see the "financial crimes enforcement network" you're going to think you're in the wrong place!  You're at the right page.  And no, you're not a criminal.  By some weird luck of the draw, the financial crimes division is in charge of FBAR filing.  Personally I think they should change the name but the IRS isn't taking my suggestion on that.
As an individual, you're going to want to select the top box, Report Foreign Bank Accounts (FBAR).
This will take you to the next screen where you can choose whether to prepare or submit your FBAR.  We'll start with preparing.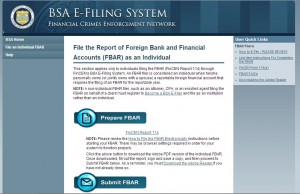 When you click on the "Prepare FBAR" link, you should get a download of the input document.  But, you might get this instead: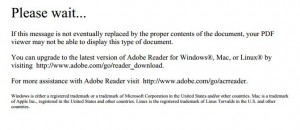 If your download doesn't convert from the "please wait" page, you'll probably have to download a newer version of Adobe reader.
[Geeky technical issue:  my computer had real problems opening this file.  I got around it by downloading the NFFBAR to my computer and then opening the file from there.  This might work for you if you're also having trouble.]
The screen you want to see looks like this: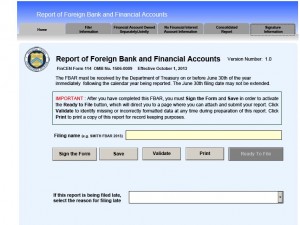 The first thing you're going to do is name your file so that you can find it again.  I'm choosing Roberg FBAR 2013.  Next, you're going to click on the Filer Information tab.  You'll see a screen like this: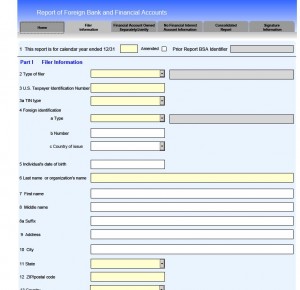 That's going to have all of your personal information, your name,  social security number and address.  If you don't have a social security number or ITIN number, then you can use your foreign identification such as a passport number.   When you're done with this section, go to the next tab:  Report of Foreign Bank and Financial Accounts.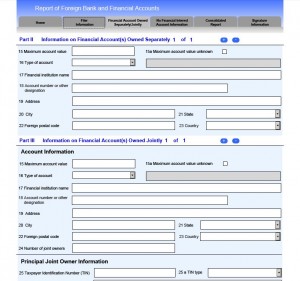 That's the meat of the reporting form.  This is where you put your bank account numbers, the maximum value of your accounts and where they are located.  These are accounts that you actually own either by yourself or jointly with your spouse.
For accounts that you only have a signature authority over, that's on the next page.  It is as follows: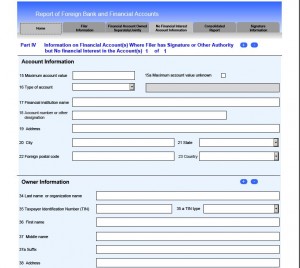 Now this looks pretty similar to the "consolidated account" form as well: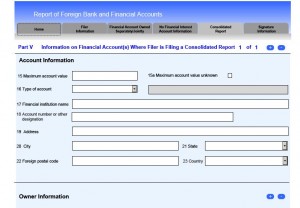 So just make sure you're on the right screen when you're filling out the form.
The last page is for the signature date – or, if your tax preparer is doing this for you, that's the part that she fills out.  If you're doing this yourself, you don't need to fill out the title on a personal account and the signature date will auto populate when you put the signature on the front page.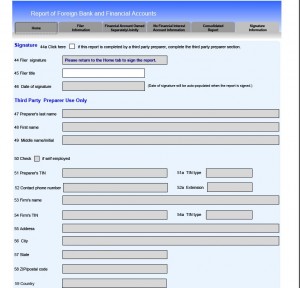 Once you're done, you're going to go back to the original screen.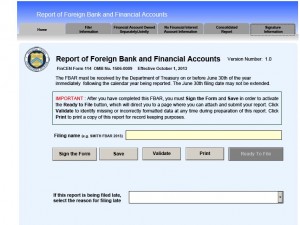 Before you actually hit the signature button, you'll want to hit the validate button.  It will check for errors and omissions for you to correct.  Then you'll want to sign the form and save it.  Be sure to print your form, and then when you're all set click on the ready to file button.
That will put you into a final screen where you're going to put your email address so you can receive confirmation about your filing.  After you submit, you'll receive a confirmation notice.  Later, you should receive an email saying that the BSA has accepted the FBAR.
You want to get your 2013 FBAR filed by June 30th.  For those of you who are filing back FBARS, you'll need to answer the question about why you're late.  If you're filing on time, just leave that box blank.
An Individual Tax Identification Number (ITIN) is for people who live in the United States but do not qualify for a Social Security Number. If you're here working in the US, you should have been issued a Social Security Number, but your spouse and children weren't. In order to claim them on your US income tax return, you'll need to obtain ITINs. Here are my instructions for the best way to do it.
First, you'll have to fill out the right form. It's called a W7 and here's a link to the IRS website to download it: http://www.irs.gov/pub/irs-pdf/fw7.pdf
Each person needing an ITIN will have to complete a separate form. For example: if you want to claim your wife and your daughter on your US tax return, then you'll need two separate forms.
In the section of the form where they ask for identifying documents, if you've got a passport, that's your document. Don't even consider the other documents if a passport is available; it can be a headache using them.
You will apply for the ITIN at the same time that you file your income tax return. You will attach the W7 form (or forms) to the front of your tax return. You will list your dependents' names on the return and in the section that says "Social Security Number" you will write "applied for." Note: you're not applying for a Social Security Number, it's an ITIN number and that's understood because you're submitting the W7 with the form. ITIN numbers are different from Social Security Numbers and the IRS computers recognize that; you're not being dishonest in any way.
If you read the instructions to the form W7, it will tell you about mailing the return and getting your documents notarized, etc. Don't do that! The best and fastest way to process getting your ITIN numbers is for you to go in person, with your documents and your dependents, to the nearest IRS office to file your taxes in person. The IRS agent at the desk will examine your documents right there, stamp what needs to be stamped, and will send your return off to the correct processing house from there. If there's anything wrong with the paperwork, you'll find out right then, and not three months later when they ask you to resubmit everything.
Because your tax return is being submitted by paper, there will be the additional delay associated with the ITIN, and your tax refund will be very slow. Do not be surprised if it takes 12 weeks for them to process your return. Once the ITINs are processed, you'll receive paperwork in the mail. You'll use those numbers on future tax returns and you won't have to go through the process again. You'll even be able to e-file which gives you a much faster refund.
Extra stuff to know: An ITIN number allows you to file an income tax return and claim a spouse or a dependent. There are some tax benefits (most notably the Earned Income Credit) that are not allowed with an ITIN, but only with a Social Security Number. If your family's status changes and you later obtain Social Security Numbers for them, you are allowed to amend your prior year's tax returns (up to three years) to claim any tax benefits that you missed earlier because you used an ITIN number.
Heads up about tax software: Some software programs can't process a tax return correctly if there isn't a number in the social security box. They will generate a "fake" number to create the return and then it has to be deleted at the end. Make sure that your return says "applied for" in the social security box before you submit it and that there's no fake number in there. It will delay the processing of your return by months.