http://www.irs.gov/Refunds
_______________________________________________________________________________________
_______________________________________________________________________________________
When you go to IRS.gov, click on the refunds tab on the top.  This is where you can check the status of your refund online.
Once you file your US Income taxes, the most important thing to you is, "Where's My Refund?"  If you're trying to find out about a current year tax return that was e-filed, the easiest way to find out about your refund is through the IRS "Where's My Refund?" website.  Before you go to the website you'll need to have your Social Security Number, your filing status (Married filing jointly, Single, Head of Household, etc.), and the exact amount of your refund in order to gain access.
You need to wait at least 24 hours after the IRS receives your e-filed tax return.  That means 24 hours after you get IRS confirmation that they've received it—not 24 hours after you filed.  Remember, the IRS isn't officially receiving anything before January 31st.   If you go to someplace like H&R Block and file your taxes on January 14th—they're not really filed yet as far as the IRS is concerned.
If you mail your tax return, don't expect to see any results on "Where's My Refund" until 4 weeks after you mail your paper return.  Once again, the IRS isn't "receiving" paper returns until January 31st either, so even if you mail your return on January 1st, don't expect to see your results online before March 1st.
The IRS has announced that they will not personally respond to calls about tax refunds until 21 days after your return has been received.  To put that in plain English—
The IRS ain't gonna talk to you about your refund anytime before February 21st—no matter how early you filed your return.
I put that in big, bold, red letters because last year I received several calls from people who filed their taxes early with a store front tax company down the street from my office, then couldn't find their refunds on the IRS website and that store front office didn't return their calls.  People were frantically trying to get information and couldn't get answers.
So, if you go someplace to file your personal 2013 US income taxes and they tell you the IRS is receiving them before January 31, 2014—they're either lying or stupid.  I know, that's harsh but it's true.  They're not actually filing the returns— they're sending them to a "holding bin" until the IRS can actually receive the transmissions.  It's called stockpiling.  It used to be illegal, but since the IRS keeps putting off the filing date they've made it okay to do now.   The point is—you return isn't really filed yet, and it won't be received by the IRS until January 31st.
Now, if it's after January 31st, and you've waited 24 hours after receiving notice that your return has been accepted by the IRS, you can go to the "Where's My Refund?" page to check on the status of your return.  Here's the link:  http://www.irs.gov/Refunds/Where's-My-Refund-It's-Quick,-Easy,-and-Secure.
If the site doesn't have an answer for you, wait another day and try again.  The website is only updated once every 24 hours so checking on it more than once a day is a waste of time.
One final thing—all of the accounting firms have to deal with the IRS late e-file acceptance issue.  Whether it's a big box company like H&R Block, a small tax company like Roberg Tax Solutions, or a Big Four accounting firm like Deloitte; we all have to live with the same rules.  The IRS will not accept anyone's return any earlier than January 31.
If you went to one of those tax companies last year that fits the category of "lying" or "stupid" it might be time to change tax companies.  Let's face it, if your tax person doesn't know the IRS filing date—what else is he doing wrong?
I took a phone call from a fellow awhile back who was absolutely furious about some of the questions his tax preparer had asked him.  The preparer had asked a whole bunch of questions about his kids and even asked to see their report card from school.  He said, "My daughters are 4 and 2 years old.  They don't even go to school yet!"
So what's going on here?
It's all related to an IRS form—# 8867.  Form 8867 has to be filled out and sent in with every tax return that has the Earned Income Tax Credit.  Now, this form has been around for awhile, but it used to be that a tax preparer was just supposed to ask some questions and you'd keep that information to yourself.  Now, the IRS expects you to send the form in with the tax return.  If a tax preparer doesn't complete the form and send it in with an EIC return—the IRS charges a $500 penalty to the tax preparer.

That's $500 per return.  You miss too many of those and you could be out of business.    For most preparers, that's more than what we charge to prepare an EIC return.
Now if you prepare your own tax return, you don't have to worry about form 8867, it's only for paid tax preparers.  But if you have your taxes done at H&R Block, or Jackson Hewitt, or even me—that form must be completed, and signed, and sent with your tax return.  (If your tax return is e-filed, we are required to keep the signed copy in our files.)
And the form seems to ask for more and more information every year.  Now there's a whole section about documents:  documents to prove your kids live with you, documents to prove a disability, and documents to prove self-employment income.   Tax preparers are now expected to look at a taxpayer's documents to verify the information on an EIC tax return.  School records, like report cards, are usually the easiest thing to use for documentation.  Of course, report cards aren't very helpful when your children aren't in school yet.  No documents, no form 8867.  No form 8867, no tax return.  No tax return, no refund.
It's like the IRS is trying to turn regular tax preparers into the EIC police.  It's not a job we asked for, but it's a regulation that we're required to enforce.  The penalties are so stiff that we'll all be out of work if we don't go along.
So remember, if you tax preparer asks to see your child's report card, he doesn't care if your son got a D in math or is a straight A student;  he's just trying to help you get your refund.
What Documentation Do I Need To Support My Tax Return?
I recently got an e—mail from my friend Steve who was concerned that he was keeping his records for too long.  He was looking to purge some of his files and he also wanted to know if he was overdoing it on his documentation.  Steve owns a small business.   This is part 2 of a series—http://robergtaxsolutions.com/2013/11/does-this-make-my-files-look-fat/.
In my last post I talked about the IRS rules for record keeping.  The problem I find with the IRS post is they tell you to keep records for your tax returns, but they don't tell you what records to keep.  I'm going to go over those here.  Part of my job as an Enrolled Agent is to assist people who are getting audited.  So, based upon my audit experience I think you should keep the records that the IRS will ask for in the event of an audit.
Bank Statements—if you own a small business, you should have a separate bank account for the business.  In an audit, the IRS will always ask for copies of the bank statements.
Deposit tickets—Granted, your deposits should all be reflected on your bank statement, but they always ask to see those so hang onto them as well.
Receipts for expenses— always good to have.
Mileage logs—if you claim mileage you should have a log.  Hold onto these—they are like gold.
Your QuickBooks or other accounting software records.
Now for space purposes—you can have all of these things scanned and saved on disc or on the cloud.  I like to keep the paper around for at least three years, but after that, as long as you can access the scanned documents you should be good.
Here's the funny thing—the better you are at keeping records, the more stuff you can throw away.  Counterintuitive, right?  Let me explain, let's say you use QuickBooks, and you purchase a few cases of paper and other stuff from your local office supply company.  They deliver the paper and goods and send you a bill.  You write them a check and log into QuickBooks something like Check #1241 to Office Supply Solutions for $162.47 paid on October 31, 2013 from Bank of America checking account and expensed as office supplies.  It's all right there in your QuickBooks transaction.
Now, for the three years, I would still hang on to the Office Supply Solutions receipt, I'd keep my bank statement, and my checking account register.  But after five years, I'd let those receipts find their way to the shredder.  (Yes, the IRS says three, but I'm paranoid.)
If your records are good, you don't need to hang on to stuff for as long because you documented everything and it will tie to your bank statement.  Three years from now when you're getting audited, you'll have no clue what check number 1241 was for—you don't have to, it's in your QuickBooks.
But if your records are bad—that's when you really need them.  Let me explain—
Let's say I don't use accounting software, I don't maintain a separate bank account for my business, and I don't keep a ledger of my expenses.  One day the IRS decides that I've over claimed my expenses (meaning that my income is actually higher.)  Remember my last post?  If the IRS believes that you underreported your income by 25% or more, the statute of limitations on an audit is 6 years instead of three.  (If they think it's fraud, it's open season on your forever.)
Well, the person with good records still has his QuickBooks account and matching bank statements.  Everything ties.  Easy audit—in, out and outta there.
The person with the bad records is going to have to dig and find that office supply receipt, find cancelled checks (who still get cancelled checks anyway?) or somehow prove the expense.  Can you pick up a random bank statement from three years ago and look at a check number without copies of the cancelled checks and tell what that check was written for?  Even if you can, the IRS auditor isn't going to believe you without a receipt to back it up.
So keep good records now, so you can thin out your files later.
Can You Have Too Much Documentation?
I recently got an e-mail from my friend Steve who was concerned that he was keeping his records for too long.  He was looking to purge some of his files and he also wanted to know if he was overdoing it on his documentation.  Steve owns a small business.
Personally, as an accountant, when Steve told me about his recordkeeping–I was just so excited!  He kept such good books.  But at what point do you not need all those records?
I'm posting what the IRS says on its official website in red.  My comments are in black.
Note: Keep copies of your filed tax returns. They help in preparing future tax returns and making computations if you file an amended return.   I would also add that you should keep the official tax documents that go with the return, especially things like 1099s and W2s if you are an employee.  Keep anything that shows a tax payment.
According to the IRS, your need to hang onto records depends upon your situation.  The situations are as follows:
You owe additional tax and situations (2), (3), and (4), below, do not apply to you; keep records for 3 years.  What they mean is that if you don't have any tax problems, you only need to hold on to your tax returns for three years.  That's how long the IRS has to go after you for a simple mistake like leaving an interest statement off your return.   So here's my issue with this–what if you don't know you have a tax problem?  Like what comes next—
You do not report income that you should report, and it is more than 25% of the gross income shown on your return; keep records for 6 years.   Bingo!  This is why I don't approve of tossing documents after only three years.  Here's a good example–let's say you're a senior citizen with some social security, a pension, and some stocks.  You sell $10,000 worth of your mutual fund for your living expenses but you had a loss so you don't think to even put it on your tax return.  (That's a very common mistake.)  So even though the missing item on your tax return was a loss, to the IRS, its $10,000 and hit's the over 25% mark.
You file a fraudulent return; keep records indefinitely.   Okay, so if you're filing fraudulent returns, keep your records forever.  Ahem…people who intentionally file fraudulent returns–well that's just not my specialty.  But normal people who screw up their returns–that is.  The IRS has a hard time telling the difference between criminals and good people who do stupid things.
You do not file a return; keep records indefinitely.  Okay, I say file a tax return every year whether you are required to or not.  It helps protect you from identity theft and it protects you from the IRS coming after you to taxes later because you missed a document.
You file a claim for credit or refund* after you file your return; keep records for 3 years from the date you filed your original return or 2 years from the date you paid the tax, whichever is later.  That means if you filed an amended return to get back more money, hold on to your records for even longer.
You file a claim for a loss from worthless securities or bad debt deduction; keep records for 7 years.   That makes sense.
Keep all employment tax records for at least 4 years after the date that the tax becomes due or is paid, whichever is later.  The IRS is very touchy about employment taxes.  These are really important.
Of course, records relating to assets that you own should be kept for at least as long as the asset is in the business.  For example:  You buy a computer and you're depreciating it for 5 years.  You must keep the receipt for that for the whole five years.  You buy a business building–you hang onto that document for the whole 39 years or until you sell the building.
So here's my "Jan Rule" on keeping tax records.  If you own a small business, keep your actual tax returns and back up for at least 10 years.  In my next post, we'll talk about what back up you're going to want to keep.
Have you gotten a letter from the IRS that says something like this?
"The income and payment information we have on file from sources such as employers or financial institutions doesn't match the information you reported on your tax return.  If our information is correct, you will owe…"
That letter is called a CP2000—it's from the Individual Automated Under Reporter Unit of the IRS.   In 2012, they issued 4.5 million notices with an average of $1,572 in additional taxes owed.  That's over $7 billion dollars!
Just because you receive one of these CP2000 letters, doesn't necessarily mean that you owe the IRS any money.  So before you go writing the IRS a check, you need to take a look at your tax return and the CP2000 letter very carefully to make sure you owe before you pay.  Let's take a look at some of the most common things the IRS is asking about.
Missing W2:  You'd be surprised how many people forget a W2 off of their tax return.  It's easier than you'd think.   You could have a Christmas season sales job at Macy's in 2011 but get a pay check for one day in January 2012.   When you file that 2012 tax return in 2013, you've forgotten about that one paycheck.  If you moved during the year, you might never get your W2.  If you forgot a W2 on your tax return, usually it's just best to sign the letter and pay the tax.
Missing stock trades:  This is probably the most common type of CP2000 letter that I see and they fall into two categories.  The first is employee stock options.  If you work for a company that issues employee stock options, when you exercise those options, you pay the tax through your payroll withholding.   Even though the stock options are accounted for in your paycheck, you still have to do additional paperwork on your taxes. If you don't also report the employee stock options on a Schedule D, you'll get an IRS notice.  Usually, if this is what happened, you won't owe any additional tax, you just need to submit the missing paperwork.
The other category of missing stock options consists of trades that just weren't reported.   Many people who made the election to receive their brokerage notices online didn't realize that their 1099B notices were online also.  I think that's one of the most common reasons I've heard for people not reporting their trades.  If you fall into this category, remember that the IRS doesn't always include stock basis when they figure your tax.   If you have stock trades on your CP2000, you'll need to prepare an amended return and be sure to include the basis of all our stock trades.  You may still owe the IRS money, but I've never seen one of these cases where the person owed the IRS the full amount that the IRS stated.
Mismatched documents:  This happens all the time.  For example, let's say that you have three accounts at Bank of America.  One earned $10 interest, another earned $15, and the other earned $20 of interest.  You put $45 of interest down on your tax return.  And that's right.  But the IRS may get the documents as 10; 15; and 20 and since it's a computer and not a human that does the matching, you could get a notice saying you didn't report your interest properly.  You can usually solve issues like that with a simple phone call.
These are just a few of the more common and easy ways to solve CP2000 issues.  If you receive a CP2000 letter and it doesn't make any sense, or you just need some help, please call us.  That's what we do.
Check out the IRS link as well: http://www.irs.gov/Individuals/Understanding-Your-CP2000-Notice
If you normally use your income tax refund to pay for your Christmas presents, listen up.  You've got a problem.
First, nobody is doing Christmas loans.  Remember when H&R Block and Jackson Hewitt used to provide loans against your refund?  Then the IRS changed the "debt indicator" which made it almost impossible for anyone to offer those loans.  A few companies provided Refund Anticipation Loans, (the loans where you got your refund in 1 or 2 days instead of two weeks) but they were few and far between.  Most people had to wait for two to three weeks to get their refund.
Now the IRS has announced that tax filing will be delayed—meaning that instead of accepting tax returns on January 21st like they had previously announced—they won't accept returns until January 28th, and maybe not until February 4th.
What does this have to do with Christmas?  Well, if you're putting holiday gifts on your credit card in the hopes of paying it off with your tax refund—you're not getting your refund until mid to late February at the earliest.  If you can't afford to pay your credit cards without your tax refund—you've got a problem.
So what other options do you have?   For some people, if you know that you're going to have a refund on your taxes, you can change your withholding now so that you get more money in your paycheck.  If you're reading this in October or early November, you've got a chance to put away some extra cash for presents.  If it's already December by the time you see this—it's probably too late.
Here's something else you need to know.  If you have your taxes done by one of those corner shop tax companies, they will gladly take your money and tell you that they're filing your return.  You might think that you're filing on January 3 or 4th, but you're not.  What they're doing is "stockpiling" your return.  They hit a button, it gets sent to a big corporate server, but it just sits there until the IRS says they're accepting returns.
Why is that important to know?  Because people think that they need to file early to get their refunds.  But those early returns are often wrong.  They're missing information, or the software's not fully functional yet.  The IRS needs time to work out the glitches and if the IRS is having glitches, so are all the other tax companies.  If you have the big green tax company send your tax return to their server and then you discover a problem with it, you can't take your tax return back.   It's too late.  And if your tax return is sent in with a mistake it could delay your refund for weeks, or even months.
There aren't a lot of options out there for using your upcoming tax refund to pay for this year's holiday gifts.  But you know what?  Christmas comes every year.  Every year!  Once you do receive your refund, it might be the only time in the whole year that you've got extra cash.  Take some of your refund money and stick it in the bank so you've got cash to pay for your 2014 Christmas.    Seriously, you never want to be dependent upon the IRS for you to have a Merry Christmas.
Wait right there.  I can hear you through the computer.  "How stupid does she think we are?"  "Who doesn't know how to put their name on a tax return?"  "I'm not a moron you know."
Yes, I know you're not a moron.  (And no, I can't really hear you through the computer, I've just dealt with this issue enough that I know what people generally say.)  For 99.9% of you, you put your name on the tax return and that's it—no problem.   But there's always that small number of people every year whose tax return gets rejected because, according to the IRS, their name is wrong.  This is about fixing those returns.
Number 1:   Often when you get an IRS "name error" message, it's not your name that's the problem at all.  It's your social security number.  Check that first to make sure you didn't transpose a number.  If that's the problem, you may need to re-input your whole tax return.  My current software lets me correct a bad SSN, but I used to use one that made you do the whole return over.  That's not fun.
Number 2:  You didn't change your new married name with the Social Security office.  Many women get married and change their names.  They tell their friends, they tell their work, but they forget to do it officially with Social Security.  When they file their tax return with their new married name—reject!  They don't exist.  You'll need to file the return with your old name on it.  You can still do file as married, you'll just use your maiden name.  Then go to Social Security and give them the new name.  Here's information on how to do that:  http://ssa-custhelp.ssa.gov/app/answers/detail/a_id/315/session/L3RpbWUvMTM4Mjc5MzQ0Ny9zaWQvKkRTVzFNRGw%3D
Although it will only take about 10 days to get your new social security card, it will take about 8 weeks to get your name into the federal computer system.     If you're looking for a refund, or have a filing deadline, just use your old name for now and the new name next year.
Number 3:  You really spelled your name wrong.  You'd be surprised how easy this is.  We double check our numbers –of course, it's taxes.  But we don't double check spelling our names.  Why would we, it's our name?  We know that.   But you know how it goes, "tiye dubfwea di  ib rgw qeibf jwta".  I mean, your fingers go on the wrong keys.
Number 4:  If you've double checked your SSN, and your name is spelled correctly and you're not recently married and you're still getting a reject notice—you've got to pull out your actual social security card as see what it says.  On newer social security cards, the last name is printed under the first and middle names.  For example, Hillary Clinton's return might be getting rejected because it should really say Hillary Rodham Clinton on it.
Number 5:  It's wrong at the IRS.  It's possible.  If you've checked everything on this list, including pulling out the actual SS card and checking everything and you still have the "wrong" name, you can still paper file the tax return, just to get it submitted.  You'll still want to follow up with the IRS and Social Security and get your name fixed.  If you've filed returns before, you can get a transcript of your old return from the IRS.  Your transcript will have the name that the IRS has for you on it.  Here's a link for that:  http://www.irs.gov/Individuals/Order-a-Transcript I know that sounds a little crazy, and even impossible, but I had to do that to once.    Well, I knew the person's name, but the IRS had something completely different!
One final name issue for people who paper file their tax returns:  don't forget to put your name on the tax return.   Really!  It's one of the most common mistakes.  People who e-file—you can't forget to do that.  People who paper file, they often do all of the math and plan on adding their name last.  Then they finish their return and forget to put the name on.  Back in the Stone Age when I was taking the income tax prep class, it was an automatic failing grade to not put a name on the return.  I thought it was silly (they were fake names on fake returns!)
If you file a tax return with no name on it, then that means it's not filed.  If you don't file your tax return on time, there's a penalty of 5% per month of the tax you owe, up to 25%.   If you're expecting a refund, it won't come.  These returns just go into the trash.  And yes, this still really does happen.      I've had people come to my office with IRS letters telling the people they never filed.  The taxpayer shows me the photo copies of his mailed tax return to prove he filed and right there in black and white is a blank space for the name.   It's a really easy mistake to make.   It happens quite often (or I wouldn't bother to write about it.)
If you own a business and you pay for services to an individual, and you expect to pay over $600 for those services, then you should have that person complete a W9 form for your files.  You'll need the information in order to prepare the 1099MISC forms next January.  Also, you only need a W9 if someone is working for your business.  For example:  when I have Brad the Painter come to my house to replace my damaged siding—I don't give him a W9, it's a personal service to me.  Now if I hired Brad to paint my office, then I'd have to collect the W9 because it would be a business expense.
The general rule here is if you're writing the service off as a business expense, then you'll need to collect a W9 from the vendor.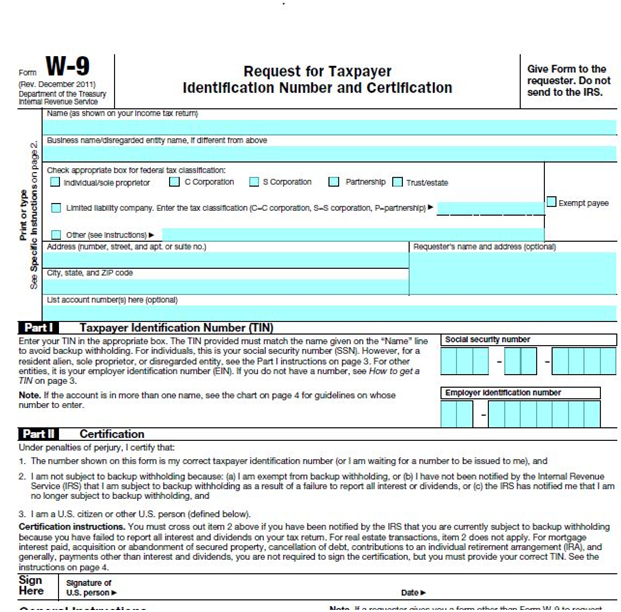 Who should I give a W-9 to? This is an important question because I received numerous complaints from people who were asked to complete a W9 form.  Basically, if you've done work for a business and they've paid you over $600 you should just hand them a completed W9.  That was the instruction I was given by the IRS for my own company.  You might think you're not self-employed, or that you don't have a business—but if you are doing work, getting paid, and not on the payroll; that means you're self-employed.
When you look at the W9, the check boxes indicate if you're an S Corp, C Corp, or sole proprietor.  The instructions also recommend that sole proprietors use their social security numbers instead of EIN numbers.  This is where I'm going to disagree with the IRS, in light of the huge number of identity theft cases this past year, do not use your social security number on your W9 form.  Anybody can get an EIN number for their business.  You can do it for free and it takes about 5 minutes at the IRS web-site:  http://www.irs.gov/Businesses/Small-Businesses-&-Self-Employed/Employer-ID-Numbers-(EINs)-
When completing the EIN application, a sole proprietor is anyone who is filing a schedule C (self employed), E (rental real estate) or F (farm) for their business.  It's important to know that the minute the IRS issues the EIN number, it's good.  If you have to submit a W9 but don't have an EIN, you can go online, get the EIN, and use it on your W9.  The business issuing you a 1099 must accept your EIN even if you did the work a year ago.
Is there any way to avoid having to complete a W-9 form or issue a 1099MISC? The easy way to avoid having to issue a 1099 MISC (and collecting a W9 form) is to pay by credit card.  Credit card companies are now issuing 1099K forms so that revenue to the vendor is already being reported to the IRS by another reporting agency.  If you don't want to be collecting W9 forms and issuing 1099s, then use your credit card.  This is the easiest way to avoid 1099MISC and W9s, but remember that there are lots of fees associated with using credit cards.  As my Mom used to say, "Pick your poison."
What about home office expenses? Do I need to collect a W9 from my landlord?  I think this is a case of the overzealous W9 collector.  If you have a home office, you're reporting that on your Form 8829.  Whether you are reporting mortgage interest or apartment rent, it is considered to be a personal expense that you are attributing a percentage of to your business expenses.  You do not need to collect W9s from your mortgage company, landlord, or utility companies to claim your home office deduction.  (I've been asked this question enough times that I felt it necessary to include it here.)
What about purchasing an item from an individual?  Do I need a W-9 then? The example that was given to me was buying a claw foot bathtub from Aunt Bertha.  I tend to think of this kind of like going to a garage sale—you wouldn't dream of giving a 1099 to the person running the garage sale would you?  Now if Aunt Bertha were in the business of refurbishing bathrooms; that might be another story.  But if you just buy something, a private transaction between two people, that's not a W9 issue.
What about small jobs that are repeated monthly so the total will be over $600.  Do I need to get a W-9 for those? Once again, if you're talking about business expenses then you should collect a W9 and issue a 1099MISC for the work.  For example:  I used to pay $50 a week to a guy to edit my blog posts and monitor my website.  (Now Mike does that.)  Although the payment was only $50, over the course of a few months, it exceeded the $600 threshold so I had to issue a 1099.
Generally, if you're unsure about needing a W9, it's safer to err on the side of collecting one and issuing a 1099MISC than it is to not have it.
(Explaining the Schedule M1 for Dummies)
So you're a small business owner and you just got your business return back. You take a look at the tax return and it says your net income is $20,000 but you gave your QuickBooks profit and loss statement to your account and it said that your income was $15,000. What happened? Maybe instead it was the other way and your tax income was lower. What's up with that?
Well first thing, if you have an accountant doing your taxes, she should be able to explain exactly what's going on. (If she can't, it's time for a new accountant.) But the simple answer is right on your tax return. It's called the Schedule M1. If you've got a corporation, it will be on page 5 of the tax return. If you've got a partnership, it's on page 4, right underneath the balance sheet.
Schedule M1 is the part of the tax return that explains what's different between the books that you handed your accountant and the tax return that you're giving to the IRS. If you had less than $250,000 in revenue, you don't need to submit an M1 to the IRS (tax programs will leave them blank), but it's still a good idea to complete those schedules to make sure your books are straight.
So what are the most common discrepancies between tax and book income? That's easy; you'll find it in the meals and entertainment category and depreciation. If you don't have expenses in either of these categories, most likely your tax income and book income are going to match up just fine. But if you do have meals and entertainment or depreciation, they almost always affect your tax income.
Let me explain the meals and entertainment first. That's the category where the IRS only allows you to claim a 50% deduction on there. So let's say you spent $3,000 in meals and entertainment. On your tax return, you'd only get to expense $1,500. That means there's another $1500 expense that's recorded on your books that's not on your tax return.  So, in this example your tax net income is higher than your book income.
Depreciation usually goes the other way.  Often small businesses ignore depreciation.  Or they run depreciation through their software program, but it's not the same depreciation schedule that's used for taxes.  For example, using the straight line method for book purposes but using the Modified Accelerated Cost Recovery System (MACRS) for tax purposes.  Usually that makes for a tax adjustment the other way.
Let's look at an example so you can see what the Schedule M-1 looks like and how it affects your net income.  In the example below, the business owner showed $20,000 of net income on his QuickBooks profit and loss statement.  He had $2,600 of travel and entertainment expenses, so half of that get's added to his taxable income.  He also had $4,500 of depreciation that showed up on his tax return, but he didn't include in his QuickBooks, so that reduces his taxable income.
$20,000 (net income from the profit and loss statement) + $1300 (half of the meal and entertainment expense) – $4500 (the depreciation expense) = $16,800 (the net income shown on the tax return)

There are lots of other items that can affect the Schedule M1.  These two are so common that many tax programs automatically plug them in for you.  Another common item that might show up on the M-1 is when you've got an expense on your profit and loss statement that your accountant says, "No, you can't count that on your tax return."    (We don't do that to be mean, we just don't look that good in prison orange.)
Why you want the Schedule M-1.  Let's say you file your business tax return and you get audited by the IRS.  The first thing they do is ask for your profit and loss statement and your bank records.    The examiner takes one look at your P&L and sees you have net income of $20,000—but you're tax return says you made $16,800.  He's licking his chops because he gets to assess you additional taxes and he hasn't even opened your bank statement yet.  Aha!  You've got your M1 showing the depreciation.  Your butt is covered.
Now in real life, the IRS examiner would notice the depreciation eventually anyway.  But sometimes there will be items in the M-1 that aren't so obvious.  That's why you want this reconciliation, because by the time the IRS gets around to auditing your books, you'll forget the little adjustments—unless they're tracked.  M-1 keeps you neat and tidy.
I was having a bout of writer's block and had a blog post due. Fortunately, I just received this email from Morgan, a disabled Navy vet, and it seemed like a worthy topic.
I was placed on "uncollectable status" by the IRS last year. Now, to keep my uncollectible status, they want me to provide them with the amount I receive from the VA each month along with my SSDI amount! Am I missing something here? I am totally
confused. I was told that VA disability benefits are tax exempt. So is my SSDI benefit. If that's so, why is it considered income by IRS? Can you help me with this so I can understand?
This is a good question—if VA and SSDI payments aren't taxable, why does the IRS ask about them when settling tax debt? Or in Morgan's case, when determining collectability status?
The answer is—there's a difference between "taxable" income and "money that you have that you can use to pay bills." So even though things like VA payments and SSDI are not taxable, they are counted towards money available to pay bills.
So here's what the IRS is doing. They're taking all of your income—whether it's taxable or not, and adding it together. Then they're looking at all of your expenses and if there's any money left over, that's what they consider is available for you to pay your taxes with.
Here's how the formula works:  Income includes wages, interest, dividends, business income, rental income, distributions, pensions, social security, child support, alimony, and other income.  VA payments and SSI would count as "other income".
Expenses include:  Food, clothing, and misc., housing and utilities, cost of owning and operating a car or using public transportation, health insurance, out of pocket health care, court ordered payments, child or dependent care, life insurance, taxes, and other debts.
Here's the kicker.  Expenses are limited to what the IRS calls "national standards."  The national standard for food, clothing, housekeeping supplies and personal care products is $583 for one person.    Out of pocket healthcare is $60 if you're under 65 and $144 if you're over.  If you own a car, the allowance is $517 for owning and operating it.  If you use public transportation, you're allowed $182 a month.
Housing and utility expenses vary greatly by area.  Here in St. Louis County, the expenses allowed for one person is $1,426.  If you live in St. Louis City, you're only allowed $1,208.
You can look up all of the collection financial standards on the IRS website:  http://www.irs.gov/Individuals/Collection-Financial-Standards
When dealing with the IRS on this issue, you are allowed to use the national standards for your family size without them questioning the amount you actually spend.  The housing allowing will be the amount you actually spend or the local allowance, whichever is less.
So while the IRS is asking about VA payments and SSI to determine if you're capable of paying a tax debt, SSI and VA payments will remain non-taxable income on your tax return.