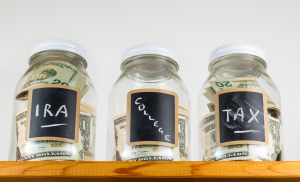 I recently wrote a post about saving money and why you need to have an emergency fund saved up before you start saving for retirement. (See: How Much of My Income Should I be Saving? (http://robergtaxsolutions.com/2015/06/how-much-of-my-income-should-i-be-saving/) Well, a friend of mine recently asked me what I thought should be the next step in saving and this is what I told him.
I'm not a financial planner or money guru of any kind. If you have access to a professional in that field I recommend you hire one because I think everybody could use a plan tailored to their needs. But if you don't have access to a personal planner, this is my opinion of how I think you should prioritize your savings.
First: Have at least three months worth of expenses saved up in a regular bank account. I like to see 6 months to a year's worth in the bank, but the three months is crucial before you start putting money anywhere else.
Second: If your employer matches your 401(k) contribution- then put your money there up to the match. An employer match is a 100% return on your investment. You can't get that anywhere in the marketplace. If you find a bank account that pays one half of one percent interest that's considered good these days. A 100% match? That's totally awesome! Do not miss out on that opportunity.
Third: If you have money left to save after contributing up to the match, then I would put money into a Roth IRA if you qualify. Generally you need to earn less than $129,000 a year if you're single and $191,000 a year if you're married. The reason I like the Roth IRA over the 401(k) or traditional IRA is that you get to take the money out tax free in retirement. It's also a good source of funds for college, housing, or other emergencies if you should need it. There is no tax benefit now for putting money into the Roth, all the benefit comes when you take the money out. I cannot overstate how valuable that "tax-free" part of the retirement equation is.
Fourth: My next choice for savings would be back to your employer sponsored 401(k). This gives you a tax reduction benefit now.
Fifth: College savings. People with new babies always ask me about college savings programs. They will have no money in their own savings or retirement but they want to open a 529 plan. So why is college savings so far down on the list? Here's the main reason: you can get a loan to go to college. You cannot get a loan to retire. We're talking about priorites: savings, Roth IRA, 401(k), then college. (Remember, a Roth IRA can be used for college if needed.)
Have you gotten this far and you still have money left to save? That's great! That also implies that you've got enough money to hire a professional financial planner. There are cool things you can do with annuities, life insurance, and other investments that are way beyond the scope of anything I can tell you about. Find someone that you can really talk to.
What are your plans for the future? Where do you want to be when you retire? When will you retire? How will you get there? These are all things that need to be tailored just to you and can't be answered in some blog post.