________________________________________________________________________
I was recently at a gala fundraising event for an organization called Kids in the Middle.  Kids in the Middle is a not for profit group that helps children cope with the issue of their parents divorcing.   It's an awesome organization and here's a link if you want to learn more about them:  http://www.kidsinthemiddle.org/
One of the cool things about Kids In the Middle is that a donation to their organization can qualify you for a Missouri Youth Opportunity Tax Credit (YOP). If you live in Missouri, donating to a Missouri Tax Credit Organization is a really sweet deal.
Let me tell you about how it works.  Let's say you want to donate $1000 to Kids in the Middle.  (The minimum donation for the tax credit is $100.)  When you donate money to an organization that qualifies for a YOP tax credit, you get a credit of 50% of what you donated against your Missouri taxes.  So if you donate $1000 to Kids in the Middle, you get $500 taken off of your Missouri income tax return next April.   That's a pretty good bang for the buck right there isn't it?
But, it's even better than that.  If you itemize your deductions, your donation also counts as a charitable contribution as well.  So if you're in the 25% tax bracket, then you're saving another $250 on your federal taxes, plus another $60 off of your Missouri taxes on top of the $500 you've already saved.   So if you're in the 25% tax bracket, your $1,000 donation really only cost you $160!  If you're in a higher tax bracket, your donation will cost you even less!  How cool is that?
Full disclosure, (I'm a tax geek can't help it) because you're going to pay lower state taxes for doing this in 2013, you're going to have a lower state tax deduction on your 2014 federal tax return.  That means your federal taxes will be $125 higher in 2014.  You're still coming out way ahead, but I just needed to point that part out.
When I was at the gala, people were donating left and right–mostly because the charity is such a good organization, but I think the YOP tax credit really sweetens the pot.  And afterwards, people were asking how do you claim the tax credit anyway?  That's something I can help you with.
Claiming the Missouri tax credit isn't difficult at all!  The important thing is that you're going to need the form that you're mailed authorizing the tax credit.  You've got to have that form so once it's mailed to you, don't lose it.  You need the code on there and you need to mail it in with your tax return.  With Kids in the Middle, it's going to be a two step process.
First, after you make your donation, you'll receive a notification letter and an application for the tax credit.  You'll have to fill out that form and mail it back to Kids in the Middle.  Then you'll receive your Certification letter from the Missouri Department of Economic Development.  That's the form you'll need for your tax return.  Don't lose that.  Your regular receipt from Kids in the Middle won't work on your tax return.  You must have the Certification letter for the tax credit.
When tax time rolls around, you're going to fill out form MO-TC.  Here's a link to see what it looks like:  http://dor.mo.gov/forms/MO-TC_2011.pdf As you can see, there's not much to it.  The amount of the tax credit will get carried over to line 37 of your Missouri 1040 tax return.
You will have to mail your Missouri return instead of e-filing because you'll have to attach the certification letter along with the tax credit form to your tax return.  But that's about all there is to it; get a form, complete the MO-TC document, claim the deduction, attach the paperwork to your tax return, and mail.  It's that easy to do a really good thing.
I usually tell people that they should be putting money into their IRAs or 401(k)s to save for retirement.  And while for many people I still think that's a good idea, after this past tax season, I'm having second thoughts.  Here's why:
If you are not retired you should not be receiving income from your IRA or 401(k).
Now I understand life happens and sometimes people need to tap into those funds.  But if you need to tap into your retirement funds for something other than retirement, then it means that you don't have enough funds in your regular savings.
Here's what happens—people tap into their 401(k) when they wind up in financial trouble.   It doesn't really matter how they got there, maybe its medical bills, maybe it was a tornado.  The point is they needed money and the retirement fund was all that was available.
They get hit with taxes on the money they withdraw and they also get dinged with a penalty for early withdrawal of the funds.  So they wind up being double taxed when they're already in financial dire straits.  Often, the withdrawal bumps them into an even higher tax bracket, making the hit even worse.  If they would have had that money is a savings account that they could access—then there would have been no tax implications for getting at that money.
Okay I can hear you now, "Look, Sherlock, I already tapped out my savings account before I went to the IRA.  I'm not stupid, I was desperate."    And yes, I do hear you.  Where I'm coming from is that as a country, we all don't put enough money into savings.  We all, as a nation, are better at putting money into our IRAs and 401(k)s.   We get tax incentives to do it.  Sometimes our employers sign us up without our even realizing it.  And it makes the IRS happy because they wind up getting more money out of us by giving us a tax break.
What's that?  Yes, the IRS makes more money off of us by giving us a tax break on our 401(k)s because we break into them so often.   The sales pitch is put money into your 401(k) and you don't pay tax on that money.  Then, when you take it out, you're supposed to be in a lower tax bracket so you "win".  The reality that I'm seeing these days is—people are putting their money into their 401(k)s while in the 25% tax bracket and taking it out while still in the 25% tax bracket and paying an additional 10% penalty on the money.  The only winner I see here is the IRS!
So what's the solution?   Put money into a savings account.  A real savings account—not a "this money is for our Disney vacation account" — I mean this money is for "Dorothy and Toto blew away with the house and Auntie Em is in the hospital" account.
Savings accounts aren't sexy.  You don't get any tax incentives to have one.  Heck, you don't even get a toaster anymore!  (I still use a frying pan that my mom got for opening a bank account back in the late 40's or early 50's.  It's a great frying pan.)
But if it makes you feel better, think of your savings account as your way of cheating the IRS out of a little unearned bonus money.  That might be all the incentive you need.
I usually write about Missouri tax credits, that's my state, but today I get to talk about New York.  I love New York, it's a wonderful place, but this new tax credit proposal has me shaking my head.
Have you heard about it?  New York's new state budget has a tax credit for (and I'm going to quote directly from the New York Daily News) "A talk or variety program that filmed at least five seasons outside the state prior to its first relocated season in New York." There are more requirements here; the show has to be filmed in front of a studio audience of at least 200 people and has to have an annual production budget of at least $30 million.
Can you say, "Tonight Show?"  Honestly, can you think of any other show that even meets that criteria?
This new tax credit will pay for 30% of the production costs of the show.   Do the math here—the show has to have an annual production budget of at least $30 million, and the state will pay 30 percent of the budget—that's a lot of money.
In fairness, New York has had tax credits for the film and television industry for years.  The New York State film production credit program has helped hundreds of projects get made in New York and that film production has generated millions of dollars of revenue to New York.   The cost of the tax credit to New York is around $420 million in lost tax revenue annually.   One of the key provisions of the old bill was that the film or television projects had to originate in New York.
But this new credit—well it sounds a bit targeted.  Really targeted.  NBC has already started building Jimmy Fallon a new studio over at 30 Rock—supposedly for his Late Night show—NBC has not announced that it will actually move the Tonight Show from California.
Call me crazy, but if New York wanted to pay me $9 million to move my business over there, I'd be packing my bags in a heartbeat.
I recognize that states are vying to pull businesses from other states to boost their economies during this economic downtime.  State legislatures all over the country are playing games with tax credits.  I don't really think it's good for the country as a whole, but I can't stop it either.
But a Tonight Show Tax Credit?  Is this really in the best interests of the people of New York State?  I'm not seeing it.  Maybe it's because I'm still from Missouri, and you'll have to "show me."
Here are two great links to check out:
http://www.nydailynews.com/entertainment/tv-movies/exclusive-tentative-state-budget-jimmy-fallon-tax-credit-article-1.1295513
http://theweek.com/article/index/241792/should-new-york-use-tax-credits-to-woo-jimmy-fallon-and-the-tonight-show
Are you late filing your taxes this year? You're not alone. It seems that many people are behind. Hey, it's not really your fault—Congress changed a bunch of rules on us at the last minute. No wonder so many people are behind.
If you need to file an extension—that is, ask for more time to file your taxes, there are three ways to do it.
1. File electronically, using tax software. If you don't have tax software already, you can use the 1040.com software on this website. Here's a link: http://robergtaxsolutions.com/do-your-own-2011-taxes/
2. You can mail in a paper copy of the extension form. It's called a 4868. Here's a link: http://www.irs.gov/pub/irs-pdf/f4868.pdf
3. You can make a payment towards your taxes with a credit or a debit card. And that will give you an automatic extension for your taxes. (You can also use EFTPS, but if you don't know what EFTPS is, it's too late to use that option. For more information on EFTPS: http://robergtaxsolutions.com/2010/12/irs-electronic-deposit-rule-starts-january-1st/)
If you just want to make a payment, it's pretty easy. You'll start at the IRS website, and chose your payment provider from there. Here's the link: http://www.irs.gov/uac/Pay-Taxes-by-Credit-or-Debit-Card
It's important to know that an extension gives you an extension of time to file your tax return; it's not an extension of time to pay your taxes. I think a lot of people want to file extensions because they owe and they think it will give them more time to pay. It doesn't.
The penalty for paying late is ½ of 1% per month. So, let's say that you owe $10,000 on your taxes. You file an extension, but don't pay anything towards what you owe. When you actually file and pay in October, instead of owing $1000, you're going to owe an extra $300. (.005 times $10,000 times 6 months = 300)
But here's important news—I'm going to quote it because it's that important:
"The IRS is providing late payment penalty relief to individuals and businesses who request tax-filing extensions and attach to their returns any of the "delayed" forms that couldn't' be filed until February or March."
Here's a list of the forms that are affected: http://blog.drakesoftware.com/2013/01/list-of-irs-forms-that-1040-filers-can.html
Granted, not everyone will be filing the "mine rescue team training credit" form, but lots of people will qualify with the education credits, or the depreciation form. Do check the list to see if you qualify for penalty relief.
No matter what, if you're not ready to file your taxes before April 15th, do file an extension. Although the late payment penalty is ½ of 1% per month, the penalty for not filing (or filing an extension) is 5% per month. That's ten times as much as the late payment penalty. You don't want to have to pay that.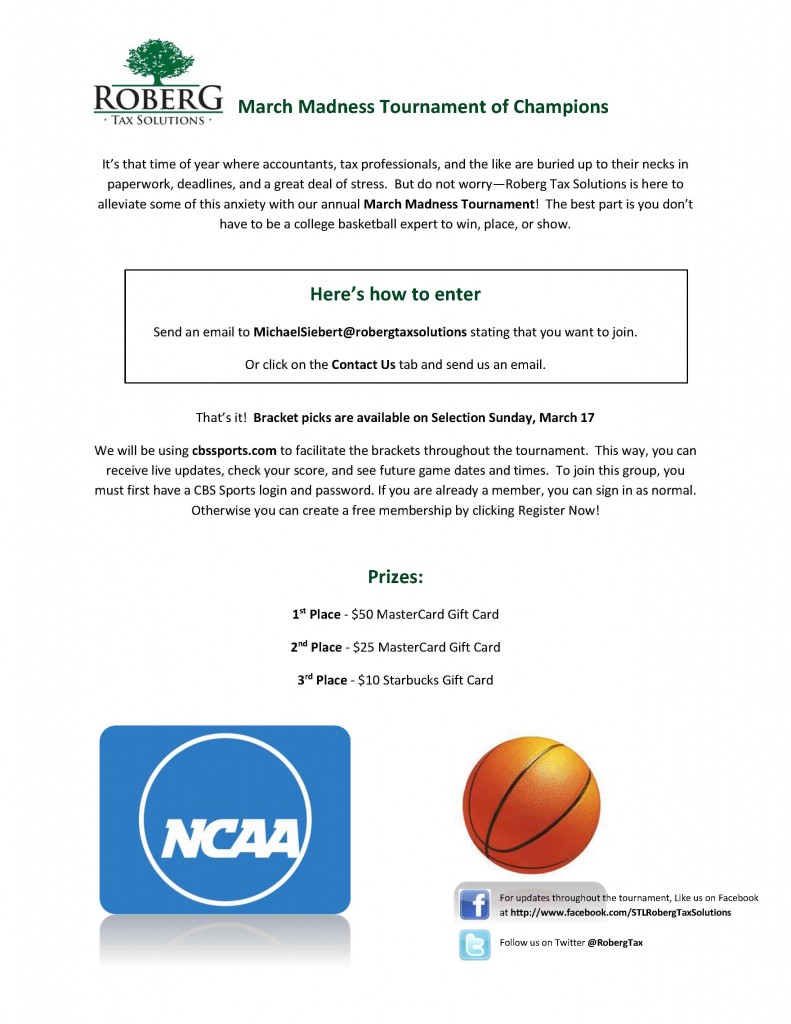 A big part of my business is helping people who are getting audited by the IRS.  What you might find surprising is how many people I wind up helping  that paid a "professional" to prepare their tax returns.  I use the term professional loosely here because right now, basically anybody with a computer can hang out a sign and say they are a tax professional.
Now the IRS tried to put a stop to that, they set up rules requiring testing and training for anyone getting paid to prepare tax returns.  But they lost a court case so now you're stuck trying to guess if your preparer has even minimal competency.
One of the questions I ask when reviewing an audit return is, "How old is your tax person?"  Full disclosure here, I'm also "over a certain age"—let's just leave it at that.    Lots of tax professionals are older.  (At the IRS convention in Chicago this summer, we made a game of looking for people who were under 40—not many to be found.)  But the dinosaurs are the ones who don't keep up with the new tax laws.
True story:  a woman came into my office because she was being audited and the IRS wanted a few thousand dollars from her.  She had had her return done by a "professional" but he didn't do audits so she found me on the internet.  Red Flag 1:  if your "professional" won't represent you on a tax return that he's prepared then he's probably not credentialed.
Anyway, I took a look at the return and asked her a few questions.  By the time I got to, "How old is your tax preparer?"  I already knew the answer.  He was a retired CPA.  He just did tax returns during the season to keep busy.
I handed back the tax return and told her to pay the money.  The tax return had been prepared using 2004 tax rules.  Had the return been done in 2004—fine, but since it was her 2010 taxes, everything was different.  Here's the real kicker—had she done her own taxes using Turbo Tax or some other home style software—she wouldn't have made that mistake.  The software questions would have guided her to the right answers and she never would have claimed a deduction that she wasn't allowed.
There are lots of mature tax preparers (I'm one of them) who keep up their licenses, take update classes and keep up with what's new in tax law.  The tax dinosaurs, on the other hand, are living in the past and can cause more harm than good for their clients.  Here are some warning signs that you've got a dinosaur:
1.  Your preparer won't e-file your tax return.  Any professional tax preparer that prepares over 10 tax returns a year is required to e-file the returns.  If you have a "normal" tax return and you still have to mail it—that's a warning sign that your person is behind the times.
2.  Your preparer doesn't use tax software.  I don't care how brilliant the person is—software is necessary for today's tax returns.  Software isn't perfect, but it eliminates many mistakes.
You should also beware of preparers who won't sign your return and don't have PTIN numbers.  That's not necessarily a dinosaur, that's more likely fraud—you should run from those guys.
Dinosaurs are extinct.   The one time the IRS tried to do the right thing and protect people from the tax dinosaurs, they lost the court case.  So you have to protect yourself.   Tax dinosaurs should be extinct too.
First things first, the vast majority of people won't qualify for a medical expense deduction.  You've got three big things in the way.  The first is that your medical expenses have to be over 7.5% of your Adjusted Gross Income before you can start to claim them.  That means if you make $50,000 a year, your medical expenses have to be over $3,750 before any of it can be deducted.  (50,000 x .075 = 3,750.)  Second, even if your medical expenses are high enough to be deductible, you've got to have enough other deductible expenses to exceed the standard deduction to make claiming your medical expenses worthwhile.  And third, for most people, their biggest medical expense is their health insurance—which, if you get it through work, it's already been exempted from your income tax so you can't use it on your Schedule A.
But even though you might not meet the criteria I mentioned above, you might still qualify for some type of medical expense deduction, so please bear with me a little longer.
Do you live in a state that has a medical deduction?  Here in Missouri, there's a deduction for health insurance.  Many people don't even know about the deduction so they don't bother with it.  Here's the thing—if you list your health insurance, your prescriptions, and other medical expenses in the right boxes when you fill out your federal tax return—if you have a state deduction, it will flow through to your state tax return.
Why is it important to separate out your expenses and list them in the right boxes?  Recently, I was reviewing a tax return prepared somewhere else.  The taxpayer had several thousand dollars worth of medical expenses, including paying for his own health insurance.  The preparer had totaled up all the expenses and put them all on the "other medical expenses" box.  Now doing this made no difference on the taxpayer's federal tax return.  But when I separated out the man's health insurance premiums, it saved him over $200 on his state tax return.
This was a Missouri tax return.  Not all states have medical deductions.  But if you don't take shortcuts when you're putting the numbers into your federal return, the numbers will flow to the proper spots on the state return.
Are you self employed?  If yes, and you pay for your own health insurance, then you don't have to claim it on the Schedule A—you can claim it on the front of your 1040 form on line 29.  While this isn't as good as being able to claim it as a business expense where you get to deduct it from self employment tax, placing a deduction on the front of the 1040 is still better than putting it on the Schedule A.  The best part, you don't even have to file a Schedule A in order to claim it.
But suppose you do have enough medical expenses to claim on your schedule A.  You still want to put your self employed health insurance on line 29 first instead of on the Schedule for the best deduction.  Let me explain with an example.  This is going to have a lot of math but the math is just to prove my point.  When you're preparing your own tax return, all you have to remember is to put your deductions on the right line in the tax software–your software program will do the math for you.
A taxpayer had medical expenses of about $10,000 of which $4,000 were for his self employed medical insurance.  Let's assume he had an AGI (adjusted gross income) of $50,000.  If you lump all the medical expenses together, you take 50,000 and mulitply that by 7.5%–that becomes the floor amount;  $3,750.  All of the expenses over the $3,750 are deductible.  $10,000 minuse the $3,750 equals $6,250.  So if you're in the 25% tax bracket, you've saved $1,563–sweet right?
But, if you took the $4,000 as your self employed medical insurance deduction first, that $4,000 would come off of your AGI.  So your AGI would be $46,000.  To compute the rest of your medical expense deduction you'd take 46,000 x .075 = $3450–that's the new floor for claiming your medical expenses.  But now, since you've used the 4000 someplace else, you have to take that out of the calculation so now your medical expenses on Schedule A are only 6000.  With me so far?  You take that 6,000 and subtract the 3,450 floor and you still have $2,550 in medical expenses on your Schedule A.  So now, instead of writing off $6,250 you're writing off $6,550 (the 2,550 plus the 4,000).  Now your tax savings are $1,638–that's $75 more than before.   All you've done here is just move the number to the correct line.
I get this question every year.  Why did my friend, neighbor, co-worker, relative, etc. get a bigger refund than I did?  And the honest answer to that question is:  I don't know, I didn't prepare their taxes.  But here are some common reasons why some people might get a bigger refund than you do.
1.  They withheld more.  That's the simplest explanation.  Technically, you only get back if you overpaid your taxes.  So, people who withhold too much, get refunds.  If you get less, that actually means you win because you didn't over withhold.  (But trust me, I know.  It really doesn't feel like winning.)
2.  They qualified for the earned income tax credit.  EItC is one of those tax credits that you can actually receive even if you didn't pay anything into the system.  But—there are many requirements—most notably you have to have earned income.  The EIC can make a huge difference in someone's refund.
3.  College tax credits—the American Opportunity Credit can be worth up to $2,500 on someone's tax return.  If your friend was attending school while you stayed home—that could be part of the difference also.
4.  Different filing statuses—if you're single, you could be in a higher tax bracket than your married friend.  Or, if you're married and your wife is also working—then you could be in a higher tax bracket than your single friend.  Even though two people have the same job and earn the same amount of money—their circumstances outside of work could have a huge impact on their tax refund.
5.  Different deductions—once again, it all has to do with things that happen outside of work.  A person renting an apartment could be paying higher taxes than someone paying a mortgage because of the mortgage interest deduction—or any number of other deductions.  There are just too many things to name.
6.  Income—The more money you make, the more tax you pay.  And people who make a lot of money have to pay the alternative minimum tax or AMT.
So, don't waste your time worrying about your friend's refund.  The important thing is to think about what your goals are.  Do you want a big refund?  If so, how big of a refund do you want and what would you do with it?
Or would you rather take home more money with each paycheck?  If so, what will you do with the extra take home pay?
But whether you choose a larger refund, choose larger take home pay, or maybe choose some middle ground; our job at Roberg Tax Solutions is to help you pay the least amount of tax while making smart decisions for yourself and your family.  As long as you're doing what's best for you, it really doesn't matter what your friends are doing anyway now does it?
Note:  before you read this post, you should really see "Deducting Employee Business Expenses on Your Tax Return (Part 1)" first to see if you should even consider claiming them.
Okay, so you've decided that it makes sense for you to be reporting your job expenses on your tax return.  Generally, people who report employee business expenses are in sales; folks who do a lot of driving and a lot of business entertaining.  Those are the expenses I'm going to look at today.
Business miles:  I have a lot of blog posts about mileage, usually I'm writing about self-employed people, but the rules for claiming mileage are the same for employees.  If you are commuting to the office—that's not a deductible expense.  If you're driving around town meeting clients—that is deductible.
For example:  let's say your average round trip commute is 20 miles every day.  The average person commutes to work 250 days out of the year so if your commute is 20 miles a day, you can expect your commuting miles to be 5000 miles a year.  That's 5000 miles you can't claim as a business expense.
But, let's say you kept really good records of your business miles.  You traveled 17,000 miles on business (including your commute) during the year.  That means you drove 12,000 deductible miles and that's pretty significant.  (17,000 – 5,000 is 12,000 miles)
To claim your mileage, you'll need to know what type of car you drive, and the year, make, and model.  Also, when did you start using it for work?  The paperwork is going to ask you how many business miles you drove, how many commuting miles, and how many other miles (they mean personal—picking up the kids at school, buying groceries, and stuff like that.)
Do not lie about the mileage!  It is the most audited piece of any tax return.  Keep a log, use MapQuest, and learn to read your odometer.  Don't make stuff up.  Most people over estimate their business mileage.
Use our FREE mileage log on our downloads tab: http://robergtaxsolutions.com/free-downloads/.  This is FREE to disburse amongst your family or friends.
Business entertaining:  The business lunch.  Just because you happen to have a receipt for eating a meal in a restaurant doesn't make it a legitimate business expense.  If you learn nothing else from this post, learn to write on your receipt.  Who did you eat with and what was the meeting about?  It doesn't have to be fancy:  Fred—networking, Marge—advertising, Peggy—sales call.  Enough to jog your memory if you get asked.
Dinner with your spouse is not a deductible business expense even if you're talking business.  Don't be naive.  The receipt for the fancy restaurant with the $200 dinner dated February 14th sure as heck better be well substantiated for business if you want to float that one by the IRS.  Same goes for the McDonald's Play Place, how many people really are conducting business there?  (Okay, full disclosure, I've got a business client who does hold business meetings at McDonald's—it works with balancing family duties, but the meetings are well documented.)
Remember, most business meals are in the 50% category; meaning that if you had $1,000 worth of business meals it only counts as a $500 deduction on your tax return.
Employee business expenses are a popular target for IRS audits.  It doesn't mean you shouldn't claim them though, it just means that you need to be extra careful.  Make sure you document everything.  Write on your receipts, keep a log book, hold onto your proof and you'll be just fine with your deductions.